Metallic Epoxy Flooring
Windy City Coating's Metallic Epoxy Concrete Floor Coating creates a unique, elegant look that can't be replicated by any pre-engineered flooring system. Our Metallic Epoxy Floor Coating is composed of mica nano-particles coated with various organic and inorganic pigments to create pearlescent and iridescent effects to create a marbleized 3-dimensional effect. When the metallic particles are mixed with epoxy they give the coating a shine that reflects light and creates an eye-catching dramatic color. Metallic Epoxy Concrete Floor Coatings provide a high gloss, multi-color finish that is common in basements, retail stores, garage floors and numerous other applications.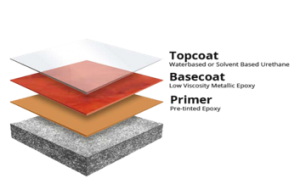 3 Layer System
5 Year Warranty
Liquid Dazzle is a metallic shimmer coating technique that assures a one-of-a-kind artistic finish that is revolutionizing the floor coating industry. Floors finished with the application are glass-like and smooth and have been described as having a hammered metal look or moon craters.